Mental Health: Self Care: You Are Worth It.
The statistics of mental health issues are rising in America. So many people are struggling and
the pandemic is only making it worse.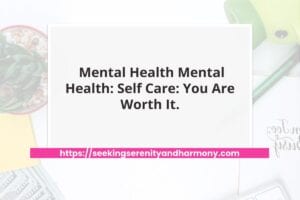 Introduction:
The Mental Health Statistics in America are pretty sad looking as it is. Add in a pandemic and the numbers are increasing. The stigma of mental illness keeps many from seeking help. . Mental Health: Self Care: You Are Worth It. . In todays post I am going to give you a glimpse into some of my writing about my struggle with mental health. My writing in hopes of offering help and hope to others. To those who have never struggled with this I hope I can give you a better understanding of what your loved one struggling with depression might be dealing with. For those of you struggling I want to say it CAN get better. .
1. The Meaning Behind The Name
"Those that have known me awhile  know I have struggled for years with a history of chronic depression. I loved my children and family, but life continued to be a struggle to stay balanced. It always seemed as if something was missing…Check it Out!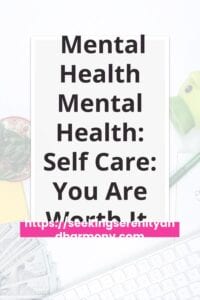 YOU ARE WORTH IT!!!
You ARE worth it!!
"Hold On, Hold On for One more day. Inspired by the Wilson Phillips Song. A list of resources and information. Hang on tightly, Hold on, Don't let go. Your Life Matters."
3. Mental Health Crises In Our Youth
"There have been some very disturbing statistics in the news lately. I am referring to the statistics of how many youths are suffering from anxiety and how that rate has increased. The myriad of mental health issues our children and youth are suffering is increasing instead of decreasing."…..Check It Out!
I want to be an advocate and support others but lately I'm struggling to get through a normal day.
I wrote a quick post on Ko-Fi this morning: Not Just World Mental Health Day….. Read more Check It Out!
5. Guest Post: Facts About Anxiety
A quote from my friend Jen in her post Facts about Anxiety . "Anxiety is the most common mental illness in the United States. It affects 40 million adults every year, and can have a variety of symptoms,…"
Conclusion
As I finish writing this post today I am wearing my "I am worth it" T shirt form Cara Harvey @ A Purpose Driven Mom. These are my most read posts that I have written about mental health, my personal journey and the reality that so many are dealing with while hiding behind a mask pretending everything is fine. I hope that in reading these it has helped give you some understanding or hope. I will be focusing more in 2021 on advocating for those who struggle with mental health issues and for children's rights and mental health issues. .
Let me know which one was your favorite and why in the comments!