Why You and I Must Be A Voice For The Animals and Children
Hello again. Recently I posted about the scary statistics of mental health issues in our youth. Today my inbox seems flooded with reasons why we must also be an advocate for the animals. I mean both those we consider pets and those that live in the wild. Today I will focus on those we consider pets.
Why we need to be a voice for the animals
As someone who has lost animals to cancer the most recent email from The Petco Foundation about animal cancer spoke to me. I want to share with you the ways they say we can make a difference.  Check out these 10 early warning signs. There was also a tug about the animal adoption events they offer in store. I encourage you strongly that if you are looking for a new fur family member that you look at adopting. There are so many animals waiting in shelters and rescues for their Happy Tail Ending of finding  a Fur Ever home. Note: I am not an affiliate for any links in this post.
Fostering Animals
We have been fostering animals since the fall of 2011. There is nothing like seeing a dog grow and be happy in the knowledge that they are loved and safe. Seeing them united with families and watching them thrive. Unbeatable feelings is all I can say.We adopted one of our foster dogs 2 years ago and with 3 dogs in the house took a break from taking in fosters and tried to help the rescue in other ways. Last fall we lost our beloved Sheru who we adopted from a shelter in 2011 to cancer.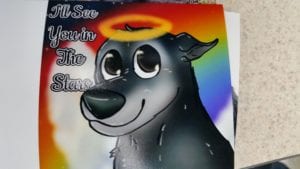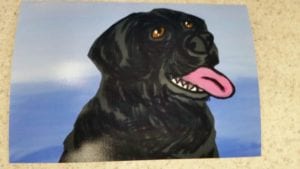 (photos from an art contest my daughter ran when doing a memorial for Sheru for my husbands birthday this year)
We took a few months and then opened our home to fostering again. Our most recent foster was just recently. We had a beautiful mastiff mix living with us. It was hard to say goodbye but I am so very happy we could give here a safe place to live while waiting for that forever family. We have learned a lot in 8+ years of fostering.
I mentioned in an earlier post about Crafts4Rescues. She has also made  videos about fostering over the years.
Children in Foster Care
The numbers of children who are in foster care is high enough. When you find out how many of those kids are being sheltered in hotels because of the shortage of foster and adoptive homes for them. The song The Greatest Love of All by Whitney Houston says "Children are our Future".
This spring I took a course called Youth Mental Health First Aid Kit. The information I learned was a wake up call that there is an even greater need than I thought.
How You Can Help
I am doing a birthday fundraiser for the local dog rescue that I volunteer for. You can view that fundraiser here.  Or you can donate to Petco Foundations Be a Lifesaver Campaign below.
2 Rescues and shelters are always in need of donations of not only financial but things like animal or childrens supplies. Shelters are often looking for second hand (gently used) linens.
3 One other way to be a voice for the children and animals is to share this post. Helping to spread awareness and fundraisers for these great animal rescue causes.
4 Another way is to check out your local programs for children and see if there is anyway you can help them advocate for children and animals in your area.Or you can take a mental health first aid for youth course.
LinkUps~ This post is linking up at
http://bethere2day.com/wwoat-excellent-advice/http://nanahood.com/down-on-the-farm
http://ohmyheartsiegirl.com/tag/linkyparty-bloghop/
==========