Short Story September 2020
I am linking up with Grammies Grid for her https://grammysgrid.com/short-story-prompt-link-party-23/
September • Prompt 23: They knew it was a trap when…
I left off with "As I carefully hung the sheet over the painting while shaking like a leaf….."
Let's get back to the short  story September….
I backed slowly away in the direction of the door, When I reached the door and put  my hand on the knob I quickly yanked it away. The doorknob had given me an electric jolt from a shock.  As I looked for a way out I remembered a "Short story September" I had read recently that they knew it was a trap when the lock on the door wouldn't unlock.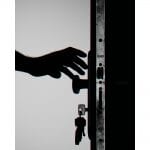 I wondered if the same was happening to me. No way to get out the door. The windows were tiny with bars on them. There was one way out through the sliding glass to the deck that was 10 stories high.  The other way was through the door that adjoined another hotel room. The only way out would be if the other patron had not locked their side.
I eased my way towards the other rooms door and as I turned the knob. Click the door opened. The other room was very dark and I could not make out anything. Looking for my phone in my pocket I wondered at the wisdom of turning on my phones flashlight feature. Though I thought that might alert someone of my presence and that someone might not be someone I want to be aware of my location.
I held my breath and slowly moved into the next room tiptoeing carefully so as not to bump into anything.. Then I heard a noise that made my heart jump. A giant thud across the darkened room……………………
Seeking Serenity and Harmony News Corner: