As an Amazon Associate I earn from qualifying purchases if you click through a link and purchase through my website.            
            Thinking Spring 2022   
   Thinking Spring 2022 On Harmony Homestead.
All winter I thought of all the plans I had for spring. Each spring usually brings baby poultry, seedlings and dreams of spending days sitting in the sunshine.
Just so you know this last week of April we still had snow showers here in Maine. The cold wind over here in the mountains is nice fresh air. But then it feels a bit too cold and I'm wishing for a nap with a warm fuzzy blanket.  I can't seem to find the balance with the temperature or with my arms length to do list of things I should do or need to do.
Take for instance this post. It was started back at the end of winter. I was planning it to be posted at the beginning of April. Here I am determined to finish and get it posted before this last day of April 2022 comes to an end.
                       April is stress awareness month
I was going to share with you my freebie and announce the Stress Less Challenge. I had planned to write all month long about the importance of self care and the negative effect stress has on your health.  A day late and a dollar short but I'm here hoping I can offer you a few resources to help you.
 https://kidscookrealfood.com/adrenal-dysfunction/    It is a great article about Importance of dealing with stress for the benefit of your adrenals .  "Self-care doesn't need to mean manicures. What fills you up? Is it reading, taking a walk, a craft, playing a musical instrument, or exercising? Find something you love and do that for 30 minutes a day. "~ Dr. Renee Wellenstein
Michelle the balanced ceo  has written a great post on 50 ways to nourish your mind body and soul. 

When we think the word spring, how many of you think Spring Cleaning time? Here are a few great articles to help you and me with that.
Get Your Home Ready for Spring with this Spring Cleaning Guide (+ free printable!) – That Lemonade Life
Spring Cleaning with Moms Meet: Tips, Tricks, and Time Savers – Moms Meet
——————————————-
Harmony Hen House~ thinking ahead to spring additions to the flock…  I didn't buy or order any chicks this year. I am shocked that I have not fired up the incubator yet.
It is the first in almost 10 years that I have not incubated eggs.  Are you egg-cited for spring?   There are a lot of things I wish I had known before I had chickens, Here is a great article https://www.getstronganimals.com/post/raising-backyard-chickens-what-i-wished-i-would-have-known
Spring normally brings me more energy and inspiration. I have so many ideas of things I want to try out. What about you? What are you looking forward to this spring? Drop your reply in the comments.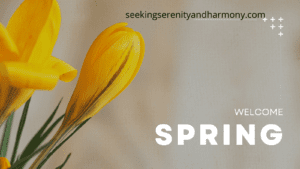 https://www.homejobsbymom.com/fruit-pizza-sugar-cookie-crust/
https://www.homejobsbymom.com/ways-to-have-fun-with-your-kids-this-spring/
I am also linking this post up with beingawordsmith.org    and Grammys Grid
30-Day Writing Journal. Lisa Rowell ~ I was glad to be able to be a part of the launch for this journal. Sometimes my mind is so overwhelmed having prompts from someone else helps me clear my head while writing.
Seeking Serenity and Harmony is a participant in the Amazon Services LLC Associates Program, an affiliate advertising program designed to provide a means for sites to earn advertising fees by advertising and linking to Amazon.com.