The 4 C's = Christmas, Candy, Clutter, Chaos
Edit: Resurrecting this old post I wrote to join in with  a Grammy's Grid Linkup about Christmas trees and lighting.
Today December 26th 2009 I think is a good time to start planning to limit the clutter and chaos and increase the amount of Christmas joy for the 2010 Christmas season. At the moment I'm looking at the piles of opened gifts and kids candy wrappers scattered. My hat is off to those moms who not only have the jobs of mother, housewife but also work a job outside the house.
One of the big 4 C's is Chaos.  Our elf on a shelf brings plenty of chaos.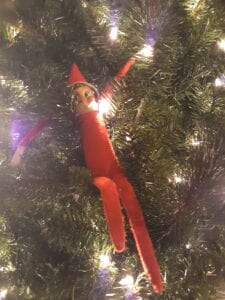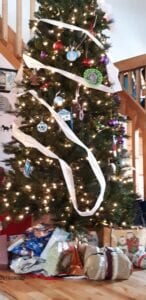 Our elf appeared at our house one December 1st many years ago. Apparently he didn't think our lighting was good enough as he added T.P. to it in 2019. The first year he appeared he hung socks on it for all of the house elves to be set free (I love Dobby from Harry Potter).
Speaking of Christmas Lighting… Have any of you readers found a good way to store your lights between one Christmas to the next?  Every year it seems I have a battle with tangled lights and burnt out bulbs. When one bulb goes out and shuts the whole string off is always a fun puzzle to solve too. 
First step to planning next year, making a spreadsheet of whom we will be sending cards/gifts to. Maybe then I won't feel quite as scatterbrained as I did this year?
Updated in 2020: I still have plenty of clutter, chaos and candy in my house at Christmas time. I have done better with keeping track of sending cards and shopping lists by using Google drive and Trello.
oh well one can hope.. never ever give up hope.
2019 currently wrapping, baking, lighting, sending, and enjoying