Maple Syrup: Time To Tap Those Trees
It won't be long before Maple Sunday is upon is. Spring is in the air today. Tonight is daylight savings time. In spite of having to wade through 3 feet of snow my husband went out and tapped our trees today. We have 10 buckets up. That is the most we have ever put up. I don't think we've ever put up more than 4 taps.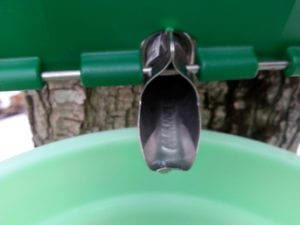 They are predicting it is going to start running next week. That is also around the time our turkey eggs in the incubator should hatch.
I am looking forward to making our own homemade syrup and we also usually end up with some maple sugar. I'm hoping to have some success with maple candies this year.
The first year we tapped trees (the spring of 2015) we were told about making maple taffy by rolling it in the snow. We tried it but didn't have a lot of luck that first year. We have plenty of snow out there this year, maybe we should give it another try.
There is a great article on maple syrup uses at Morning Chores.