Affiliate Disclosure: Please know that some of the links in my posts are  links that if you go through them and make a purchase I may earn a commission.  I link these companies and their products because they are products that I have personally tried and like. They are placed for information value.  The decision is yours, and whether or not you decide to buy something is completely up to you. Not all links are commission earning links. Some are just because I really like the product and want to share about it. Many products or brands mentioned in my blog posts are just my personal opinion and not influenced at all by my affiliate status.
Feeling stressed out? 
I'm right there with you. With so much happening in our world today, and so many of us taking new projects on our plates to help pay the bills and provide for our families, sometimes it feels like you're constantly trying not to drop all the balls – work projects, family commitments, community events, deadlines, schoolwork, and somewhere in the middle of it all, sleep. At least occasionally, right? 😉
In the busy seasons of life, it's more important than ever to find ways to manage and reduce your stress levels. 
Why is this so important?
Because stress has a significant impact on your health, even if you don't realize it at the time. In fact, according to one WebMD article, stress can be linked to heart disease, asthma, obesity, diabetes, depression, and Alzheimer's disease. Yikes! 
That's why I'm so excited to share this free 3-day event from Ultimate Bundles with you, which is all about reducing and managing your stress.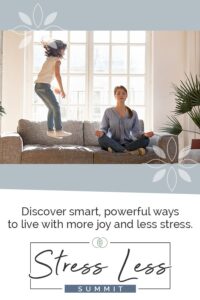 You can learn absolutely everything you'd ever want to know about the summit over here
but as a quick overview:
The Stress Less Summit will run from July 12-14, and this event is packed with amazing speakers who are ready to help you ditch that overwhelmed, frazzled feeling!
You can attend the summit absolutely free, but you can choose to grab the recordings if you want for later. The All Access Pass will give you an all-access pass to the summit (meaning you get all the videos and transcripts), and you'll also get TONS of bonuses along with the recordings too. 
The All Access Pass is worth over $600 retail and is currently being offered at a special price (just $77!) before the event begins, so start thinking about it now! 
Are you excited?! (I sure am!)
Head over to the website to learn more and grab your free ticket. More information will be sent straight to your inbox afterwards.
I can't wait to kick this thing off!
top posts in the last 30 days
The Delicious Dandy Dandelion: 10 plus uses – Seeking Serenity and Harmony
Seeking Serenity and Harmony – ????Here to encourage you to live the life you dream of????Mentor you in finding the health & happiness you deserve????
Superior Source Vitamins – Seeking Serenity and Harmony
On Learning To Heal: Book Review- Seeking Serenity and Harmony
Three things I'm loving right now
1)  My Points. Com   a great way I earn free gift cards.
2) Listening to Mel Robbins Podcast
3) The app My Fitness Pal 
What have you been loving lately? Tag me over on  Facebook  and
let me know.
Recent Find: Bulk Deal on KCups on Amazon
https://ko-fi.com/seekingserenityandharmony
Don't forget to enter these giveaways!!!