I am linking up with Create With Joy for Inspire Me Monday.
Like my Convert Kit T shirt says Create Every Day! 🙂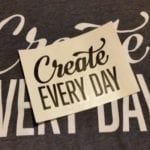 "Be yourself; everyone else is already taken." ― Oscar Wilde.
The below post was inspiring to me because she mentions ways that she still has fun in spite of her chronic invisible illness's.   So many don't understand how hard it is when you live daily with chronic pain or perhaps struggle with severe chronic depression and how hard it is to fight through the pain or brain fog.
It is important though that we try to find as much joy as we can otherwise we will just drown in misery and despair. These days and times right now it is so easy while socially distanced to fall down the dark tunnel of depression or let my Chronic fatigue or aches and pains keep me from trying things.  This post inspired me to find ways to make sure I am doing fun things to keep my spirits and head above water.
https://www.shescraftycrafty.com/2020/07/summer-bucket-list-of-activities-to-do.html   It might be the end of July but it is not too late for me and the family to make a bucket list of things we'd like to do between now and the end of summer.
This post inspired me https://www.create-with-joy.com/2019/10/being-thankful-out-loud.html  Because right now in this time of extra stress and public atmosphere of fear and anger gratitude is greatly needed.
"Be the change that you wish to see in the world." ― Mahatma Gandhi.
Inspire Me