Bunny care 101: how to take care of your pet bunny this summer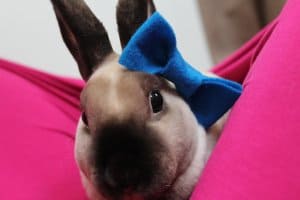 Welcome to Bunny Care 101. "This post  contains affiliate links."
Bunnies can overheat easily since they can not sweat or pant. The first thing you need to do to take care of your bunny this summer is to make sure that they stay cool.
One of the easiest ways to keep your bunny cool this summer is to give them a square of ceramic tile in their pen and hutch.
There are a few other things you can do to keep them cool which include making sure they have shade, are being groomed frequently, frozen water liter bottles to let them lay next to.
Another tip to take care of your bunny is to provide clean drinking water throughout the day frequently you may find that they are drinking more water than they were in the winter and that is because it is warmer outside.
You may decide to keep your bunny inside on warmer days or maybe your bunny is already an inside rabbit. You can give your bunny a chance to have their backyard in a box with a BunnyLawn  I recommend one from the brand Doggie Lawn.
BunnyLawn
Bunny Lawns are the perfect size grass for your bunny friends!
Purchasing through my links to Doggie Lawn and Bunny Lawn may earn me a commission at no extra cost to you.
About DoggieLawn
DoggieLawn delivers real dog potty grass straight to your door for one low monthly price. DoggieLawn ships eco-friendly indoor dog grass everywhere in the continental US.
Founders Zack and Natalie created an easy indoor dog bathroom solution that was both convenient and eco-friendly. It's by dog-lovers for dog-lovers!