Are Aura Print Business Cards worth the investment?
Today I am writing a review on Aura Print Business cards. My main question is are Aura Print Business Cards worth the investment? I am going to answer this question later in my review. I am so excited to write this review so i'm just gonna dive right on into it. 
First let's talk about the design on Aura Print business cards. These cards are well designed. I love the purple background on my business cards as my favorite color is purple. These cards look elegant and fit my brand well. The front of the card features purple and gold marbling with my name in a calligraphy type font. 
aura-print-business-cards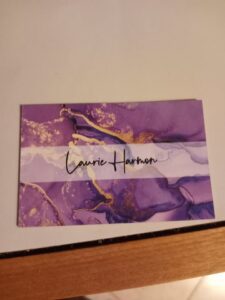 The back of the card features more purple and gold marbling. The back of the card also states my mission statement. "Here to encourage you to live the life you dream of. Mentor you in finding the health & happiness you deserve". At the bottom of the back of the card it has my website link and email. 
Next I'm gonna talk about the durability of the Aura Print business cards. These cards are thick and seem like they are very durable and are gonna last a long time. I took one and started to bend it and you could tell it was bent but every business card will do this and when I went to bend it back It looks like it only got damaged a little bit. I can't wait to start handing these cards out. They are definitely one of the best designed and crafted business cards and myself and my clients love the new design! 
Finally I want to talk about the packaging the Aura Print business cards came in. The cards came in a box inside the box and the cards were packaged in small storage plastic containers. These containers protect the cards well while they are shipped and they also make it easy to store the business cards until they are all given out.
Aura Print Business Cards are worth the investment the design fits my brand, they are durable and most importantly the packaging was well thought out so the cards were protected while shipping. 
Want to invest in your business shop Aura Print today https://aura-print.com/
I was given a sample order and loved the process of the company being sure I approved the design. Very personal and the opinions in this post are of my own experience and not influenced by the free product.