2020 Goals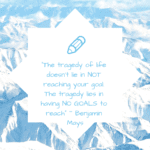 My #1 Goal right now is to beat the depression and overwhelm and get back to writing. The other goal is I want to do much more writing pieces that are helpful to advocate for others.
I want to help break the mental health stigma that keeps so many from getting help. I want to make a difference for the children and teens who are suffering and to start seeing the mental health numbers in youth declining instead of increasing. Check out the Mental Health First Aid courses if you feel the same about wanting to help.
Maybe it is an unrealistic dream but it is my dream.
https://seekingserenityandharmony.com/2020/01/19/2020-goals/